Well, it's time
Since I was gone I noticed some crazy changes to Kirby... and to be honest, they're wrong.
So let's start from the biggest to smallest.
"Another Dimension is universal"
No it isn't. Nothing indicates it's a universe other than this:
https://gfycat.com/HandmadeFrighteningEnglishpointer
At the bottom of this is what makes them 'galaxies'
Now, here's the problem:
A) There is no proof of their size. They could likely be an aesthetic beneath Kirby's feet.
B) Lets compare those to an actual real life galaxy.
The Milky Way Galaxy:
[1]
Kirby's galaxies:
https://i.gyazo.com/099c4dd42199465080136db14269f0b7.png
(Probably could've used a better image but whatever)
Hell, Kirby-verse itself shows it's aware what our own galaxies look like: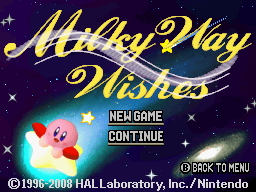 In both of these photos, it gives a clear image of Kirby being near what a galaxy more-so looks like. Why would we take these small aesthetics over what the Kirby-verse itself has to offer in what a galaxy is? Hell, the first example image of a real Kirby galaxy is in a level literally called Gamble Galaxy.
Another thing: There isn't any proof they destroy it even if it's a universe. Magolor makes it collapse... upon death. And also, the dimension clearly still exists.
Landia saves Kirby from it to make sure he doesn't die along with the rest of the guys... and then after bringing them back to Pop Star, Landia turns around and goes back into the portal to return home
If it truly destroyed everything, then it would've erased Halcandra (Which is still alive btw)
Multi-solar system Kirby?
https://fat.gfycat.com/GrotesqueDefinitiveGreatwhiteshark.gif
Background feat. Unknown if it's him destroying them or teleporting them to another arena.
http://i.imgur.com/AZBBLbz.png
Seventopia is several worlds. That'd be multi-planet+ - large planet, not solar system.
MFTL+ Kirby?
https://giant.gfycat.com/DelightfulSplendidHookersealion.gif
Calced on Narutoforums at like 10x the speed of light. Not even close to MFTL+ lol.
"
Is capable of flawlessly piloting and controlling the Warp Star which is fast enough fly from NOVA's summon point which is the
galaxy's end
to Pop Star in short time frames"

...what? Nothing points to NOVA being anywhere near outside the galaxy, wtf?

All in all, Kirby loses to Ristar tbh