I believe that Ootsosuki Isshiki Should have resistance to (Illusion Creation, Perception Manipulation and Mind manipulation) and he should have 7 layers of resistance (At least 3 for possessing the byakugan
shown here
).
So Sasuke Uchiha has 7 Layered Genjutsu (Which is Illusion Creation, Perception Manipulation and Mind manipulation) and I believe that Isshiki should have resistance to it.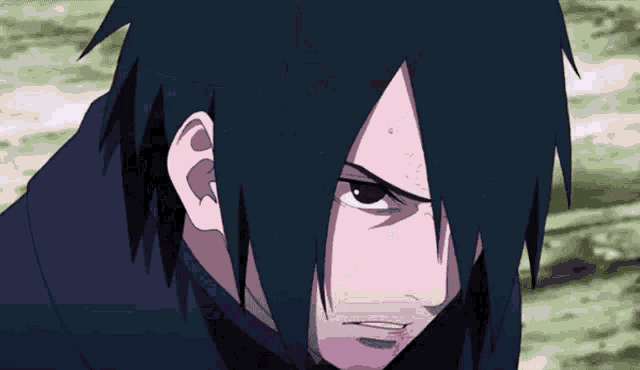 So here we see that Jigen was looking directly into sasuke's eye (Amateratsu comes from his eye and Jigen was looking directly at it)
I believe that Sasuke was trying everything here as he was trapped within Jigen's rods plus the fact that he was using Amateratsu knowing that Jigen/Karma can absorb Jutsu (He quite literally watches Jigen do it, Naruto Verbally tells him and he know's about other Karma having that ability) He still tries it despite its cost to his chakra.
(Plus he knows Amateratsu isn't an insta kill as he's used it before and it never insta killed)
Also sasuke definitely could have used it, genjutsu doesn't have any effects UNLESS it works, meaning we wouldn't have known if he used it UNLESS we see Jigen affected by it.
And narratively Naruto And Sasuke had two prep times, knew his abilities before they fought him and at the end they chose to KILL kurama and possibly naruto, it makes no sense for sasuke to be able to just zero difficulty one tap jigen then proceed to cut off his head. Like actually listen to yourself
I believe Sasuke would of at least tried genjutsu on him as it would have made no sense for him not too when he's basically just throwing chakra at isshiki with his Amateratsu.
Plus it also makes no sense for some random genjutsu user to be able to No diff Jigen as currently on his page he has ZERO resistances.
Also adult sasuke was stated to have the strongest Genjutsu so its not like the authors just forgot he had it lmfao.
Agree With Isshiki Having 7 layered resistance - 2
Disagree With Isshiki Having 7 layered resistance - 1
Last edited: